Home
Welcome to the website of the Blueskin Resilient Communities Trust (BRCT).
We work on creating local climate solutions together. Our company, Blueskin Energy Limited, is working on establishing our proposed Blueskin Turbine embedded in the local grid. We want to make what is commonplace in other countries possible in New Zealand. Our ClimateSafeHouse project is a response to sea-level rise in Blueskin Bay and the wider area. BRCT is an IRD approved charitable trust formed in 2008 out of the need to support local sustainability and climate change initiatives in a planned and structured way.  We offer practical services, provide key support, have robust resources, lead innovative projects and provide expert advocacy. Check out our 2016 projects below and our 2015 success stories at the bottom of this page. 

Our Patron

Alongside our work on our Blueskin Turbine, we do a great many things.
Cosy Energy Advice Line (Local Call:
03 929 1323
)
•    We provide a free phone/email advice service open to the wider Dunedin community regarding home heating, insulation, energy efficient lighting, etc.
•    Our advice is
independent
, and not influenced by selling products.
Firewood Programme
•    We offer bulk sales of logs to be processed for firewood
•    This is a lower-cost option for communities, charities, social organisations, etc.
Affordable insulation
•    We offer discounted quality insulation for residents prepared to do the installation themselves.
•    This is a low-cost option for DIYers, landlords and social organisations, etc.
Home Performance Assessments
•    We maintain a Dunedin wide
service
delivering independent expert assessments, appraisals and reports on their home performance to Dunedin residents.
•    We work with other social agencies to help support residents make their homes warm and cosy.
Healthy Rental Certification
•    We help landlords ensure compliance with the new requirements under the Residential Tenancies Act.
•    We give landlords and tenants the
information
they need to fix any issues and information on available subsidies.
Community office
•    We are a drop in centre for advice and support.
•    We work with individuals to catalyse community actions.
•    We provide community newsletters and articles each month.
•    We maintain a
Local Food Directory
to support local food initiatives.
•    We help to coordinate actions and develop collaboration to join up skills and build cooperate effort.
We are proud that Jeanette, our Patron, expresses so succinctly what we're about.
Current Project News in 2016 - November/December

Our Blueskin Turbine
The recent 7.5 magnitude earthquake near Hamner Springs tragically caused fatalities, though fortunately remarkably few for the scale of the shake. It severely damaged infrastructure and cut whole areas off. It was yet another timely reminder of why we must prepare for the unexpected as well as the expected.
With local renewable generation, we can make our local electricity supply more resilient, but it's only a start. Changes to the local grid will also help so that locally produced electricity like Solar PV can be more easily shared around our grid and make it more secure. Add some storage capacity into the system and then we are likely to be even better off if we're hit by an emergency.
Our proposed Blueskin turbine was first mooted 10 years ago and, with community support, the project has been extensively evaluated by professional experts. Over one year the total amount of electricity produced by our turbine will match the amount of electricity currently consumed in the Blueskin area over a year.  But of course there will be down times when there is no wind. If we can then develop other ways to produce power locally and store it then we really will have a resilent supply. All developments take time and money and that's why the turbine is so important – the money it generates for the community unlocks numerous possibilities.
The location of our Blueskin turbine on an existing farm in the rural zone, where there's good wind and the grid in close proximity is a good solution for all we believe. We have now commissioned expert analyses to be prepared for an Environment Court hearing in the New Year. We aim to create greater resilience in our local network to increase energy security and assist the development of further local climate solutions.
You can find us on Facebook and Twitter : we like social media!
Email us at
office@brct.org.nz
or call us on 4822048 - we love to hear from you.
From the office
Recently we were part of the Cosy Homes stand at the Great Kiwi Home and Living Show. As a result, our Cosy Energy Advice service has been in greater demand and insulation enquiries have increased as well. So with the coming of warmer weather its a good time to get things sorted before autumn reminds us of what we meant to do over summer to ensure we had a cosy home. There are four critical elements:
Reduce heat loss (insulate, double glaze, seal up gaps etc)
Control moisture (repair leaks, stop 'rising damp', etc)
Ventilate (remove old air and replace with new)
Heat (ensure you have the means to keep your home warm and cosy in harsh conditions).
Of course, providing energy services aren't all we do at the Trust, although it does occupy most of our time. There's also the Cuppa Tea team who meet once a month and prepare new publications on the Cuppa Tea blog. The lastest is a great piece called "Electric Vehicles 101" by Pam McKinley. It's both an entertaining and informative read. The local food directory we host on our website is a simple way to list produce and supply.
If you want to make a donation to assist our work follow the link or email BRCT at office@brct.org.nz, or Donate using internet banking via the website. Donations are tax deductible so please make sure we have your name and address and can thank you!
 Climate Safe Housing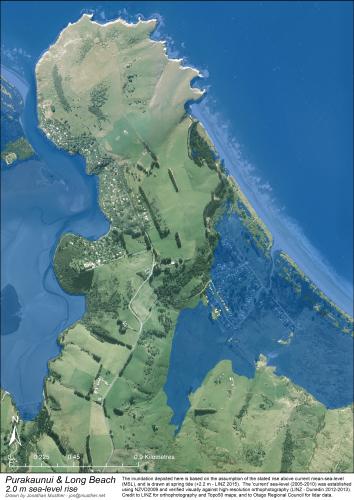 Designs for a Climate Safe House were presented to us by Otago Polytechnic Design students recently, and they were inspiring! A public exhibit of this work will be held in the New Year and a final detailed design will be prepared in the first half of 2017. We have valued working with the Design and Communications teams and their students at the Polytechnic and we're excited about this project moving forward. Our longer term goal is to build a Climate Safe House, one that is affordable, relocatable, self-contained, warm and cosy. We're working to provide an example solution to the challenges of our changing climate. Enphase Energy, a global energy technology company, is the first sponsor on-board, and has committed to providing a whole of house energy system including solar generation and grid-tied storage when the house is built, and we're very excited to have such an innovative international company as a sponsor for the project. This is a story of Community, Collaboration and Climate Solutions.

Here is what Long Beach and Purakaunui would look like in a birds eye view, if sea-levels were two metres higher than they are today...
Our Successes in 2015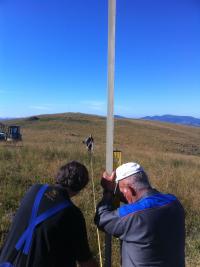 Blueskin Resource Consent application lodged
The Blueskin Wind Project has achieved a significant milestone in 2015 - lodging our Resource Consent application with the DCC after (what was then) six years of hard work. It is supported by excellent science and expert appraisals and the journey since the idea was first proposed ten years ago has been rich and rewarding. It was a significant step, and something that was only possible with extensive local support and pro bono assistance from around the country. Our BEL website has information about the project.
The original proposal was for a small-scale energy development on Porteous Hill comprising three turbines on a 24ha title with access Porteous Road and the Kilmog. We asked for a 125 metre 'development envelope', i.e. that our turbines would fit within that height. Our calculation show that the development will generate over 7 Gigawatt hours per year - enough power to supply all of the Blueskin community's annual electricity needs, and more.
This idea came from a community workshop in 2006 that led to the  big vision of the Blueskin area becoming a truly sustainable, resilient community. Our aim is to generate income that can be directed into the things that matter to us while producing clean local electricity. See latest news for updates.
Our Details

 Subscribe:


Send an email to office@brct.org.nz with 'subscribe' in the subject line.
 

Contact us:


By email: office@brct.org.nz, by phone: 03 4822 048, by snail mail: BRCT, 31 Hill Street, RD2, Waitati, 9085, or come visit us in our offices at the old dental surgery, at Waitati School.
 Donate to us:


We currently rely on donations and grants to provide services to the community, as we work to build a social business. 
Donations are essential to help us continue with our work and are tax-deductable.  Our account is: 389008 0472900 00
See our donate page for details on how else you can donate. 
We have many people and businesses to thank for supporting BRCT so far (see our supporters page).
Save
Save
Save
Save
Save
Save
Save
Save
Save
Save
Save